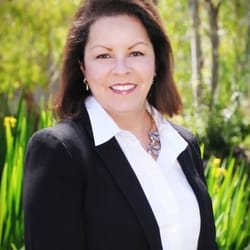 Veronica's residential real estate career started in 2000 after transitioning from commercial real estate. Her diverse background in sales, marketing, management and construction in the commercial spectrum has given her the analytical and creative skills needed to assist her in successfully negotiating favorable transactions in the best interest of her clients. She provides her clients with caring and insightful guidance through every step of the real estate transaction. Constantly aware of the latest real estate trends and market conditions Veronica is passionate about sharing the latest information with her clients. Dedicated to her client's, Veronica's successes span beyond her career. Her commitment and dedication to each deal is a testament of her integrity and professionalism and has enabled her to develop and maintain long-standing client relationships. A longtime resident of California, Veronica is very familiar and knowledgeable with all Orange County neighborhoods.

Most of Veronica's work comes from repeat and referral clients who would happily recommend her as she has taken great pride in assisting her clients through life's events. Clients often describe her as professional, energetic, persuasive and fun! She utilizes her communication and listening skills to assist her clients in completing a smooth transaction. She is adept at quickly identifying her client's real estate needs whether that is successfully selling their home or finding them the home of their dreams. She has a natural instinct at pinpointing her client's needs and expediting each and every home search or sale.

Prior to joining Berkshire Hathaway Home Services Veronica worked with RE/MAX and twice earned the 100% Club Award and for the past six years has been awarded the Orange Coast Magazine Five Star Award as one of the top 50 agents 2011 – 2016. Please check out reviews at www.zillow.com/profile/VeronicaPotter/ or www.trulia.com/profile/VeronicaPotter

Over 20 years as a licensed real estate professional | Interior design experience and staging | Highly organized utilizing the latest technology | Professional support team | Skilled
When you hire me, we will not be working alone. I complement my services with my longtime, wonderful associates who will work with you through various aspects of the buying/selling process:
Transaction Coordinator. Once we are in escrow Alice is the one who makes certain we have dotted the i's and crossed the t's in our documents. Keeping us compliant with the Department of Real Estate and protecting our liability.
Manager/Broker. If I can't be there for your needs for whatever reason my manager is always ready to step in. We are here to help each other.
Preferred Lenders – A team of well vetted lenders are on hand and a part of my team to help you with the very best in mortgage service, we will close on time and get the best rate for your new home loan.
Staging – Home Stagers and Interior Decorator. Will do beautiful work that will get your home sold! Or, if you need help with furniture placement and color selection when you buy.
Certified Professional Home Inspectors. We will utilize only the best home inspectors. They book up quickly so once we find the home, our next call will be to one of our inspectors.
Title Officers. Once we have funneled through areas and neighborhoods our title reps will help us with refined lists for door knocking, absentee owners and demographics.
Professional Photographers & Videographers – Orange County is home to some of the best renowned photographers. Creative, dynamic and always ready to help.
Graphic Designer. Targeted and specifically designed materials have helped me bring sellers the best in marketing and helps find buyers a home simply by knocking and asking.
House Hunter | Deal Maker | Confidant
You won't pay more for my experience. . But you'll get more. You talk. I listen.
Together we'll bring your dreams home and we'll have fun in the process!